Prince William left charity workers in stitches this afternoon as he firmly declined an offer to get involved with arts and crafts during his visit.
The Prince of Wales, 40, was learning about creative initiatives at homelessness charity The Passage in central London when a staff member asked if he wanted to draw something, to which he very swiftly replied: 'Definitely not.'
The room erupted in laughter as William laughed along, clearly wanting to move the conversation on from his artistic skills – or perhaps, lack thereof.
Elsewhere, William met with people who are being supported by the charity and put one slightly nervous man at ease when he revealed he was a little bit star struck to be meeting the future King.
On a more serious note, William delivered an emotive speech to the charity where he committed himself to helping the cause of eradicating homelessness.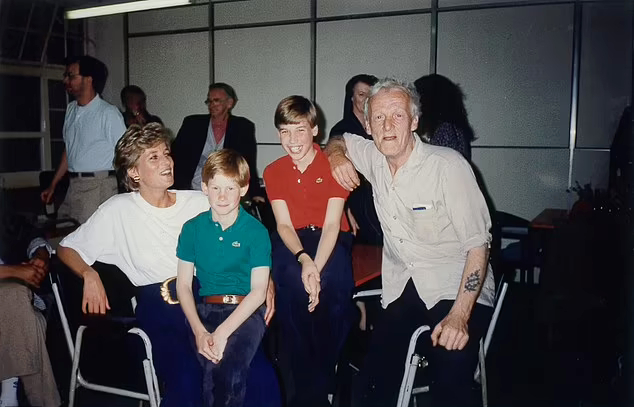 Aside from leaving the room in fits of laughter as he learnt about The Passage's art projects for those it supports, William chatted in more depth with a gentleman named Mark Chiverton who has been helped by the charity.
As the man folded his arms and told William he was 'nervous', the Prince of Wales shook off any worries and replied: 'Ah, don't be nervous.'
He added he can 'chat for hours' – and indeed, chatting to people to hear their stories was the purpose of his visit.
Mark told William he had been living at The Passage's accommodation for five weeks.
The Prince – who first visited the centre with Princess Diana and Prince Harry in 1993 asked: 'How's it going, how are you finding it? Is everything alright?'
Mark replied he was finding things 'difficult' before revealing he had been through the process of living in sheltered accommodation approximately six times.
Looking concerned, William asked if Mark had found himself in temporary housing in the past, wanting to get to the bottom of why it had not worked out for him.
He replied: 'I don't like people' which drew laughter from some, however William smiled and nodded along.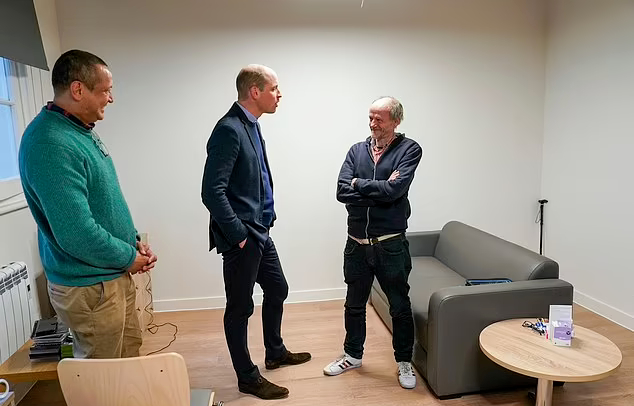 The father-of-three recommitted himself to fighting homelessness in an emotive message to the charity workers and those who receive support, with a hint that he'll reveal more about his work in the field later this year.
Today, he unveiled a plaque to celebrate yhr opening of two new buildings. Bentley House and Passage House have gone through extensive refurbishments and together will support approximately 225 people who are experiencing homelessness per year.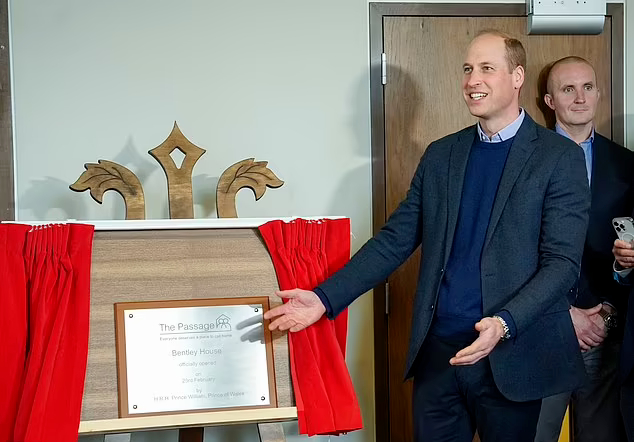 William declared the fight to end homelessness must be taken seriously as an 'achievable goal' as he spoke to an audience at the charity, which he first visited in the 1990s with his mother Princess Diana.
Speaking to the crowd at the charity's hub in Victoria, William said: 'The work that I have seen first-hand over many years is the reason I know that ending homelessness must be thought of as more than simply a wishful aspiration.
'Instead, it should be viewed as an achievable goal, one that working together we can and must accomplish.'
The royal added that ending homelessness is something that can only be achieved with 'collaborative' efforts – which he said The Passage champions.
He said: 'No single organisation or sector can end homelessness; but by working together in true partnership, organisations like The Passage can help demonstrate it is not an inevitable part of life.
'I believe this is how we can make homelessness rare, brief, and non-recurrent. I am determined to play a significant role to support this becoming a reality and look forward to sharing further details later this year.
'I am personally more determined than ever to play my part in working with others to do all we can to stop the human tragedy that is homelessness.'